News & Media

SXM Airport Adds Milk Dispensers to Schools Breakfast Program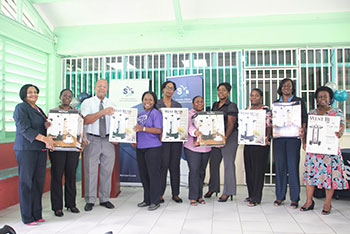 SIMPSON BAY, St. Maarten (Monday, September 15, 2014) - With The Princess Juliana International Airport, SXM, last Friday made good on its promise to ensure that St. Maarten's public schools could provide nutritious "breakfast in a box" for students by presenting the schools with milk/tea dispensers so that the children could enjoy hot milk or tea.
Addressing the school managers last Friday at the Prins Willem Alexander School where the presentation was made, SXM managing director, Ms. Regina LaBega, recalled that the pilot program was part of the ongoing celebrations of the 70th anniversary of the airport, however, she assured the schools "that it will continue long after the celebrations are over."
Noting the nutritional value of milk, especially for the youth, LaBega said: "Our Healthfast Breakfast in a Box pilot program is, therefore, not only about improving performance at school but also providing a solid foundation for the healthy growth and development of our children to prevent chronic diseases such as heart problems and osteoporosis when they grow up."
LaBega added that, "No other program that we have embarked on at SXM Airport typifies our unwavering commitment to our corporate social responsibility as this Healthfast Breakfast pilot program."
Seven public schools are now associated with the "Healthfast" breakfast program. "Since it began, we have been closely monitoring its progress and are satisfied with the cooperation of the various stakeholders who daily make this possible. I want to thank the participating public schools for graciously embracing the program, while noting that the number of students benefitting from it has increased," said LaBega.
Also addressing the school managers was the Acting Chairman of the Supervisory Board of Directors, Mr. Cleavland Beresford as well as the Head of the Public School Division of the Ministry of Education, Culture, Youth Affairs and Sports, Mrs. Glenderlin Davis-Holiday. MC for the occasion was Mrs. Audrey St. Luce-Jack of the Marketing and Customer Service Department of SXM.