News & Media

SXM Supports Return of Floats to Carnival, Sponsors "Nemo and Friends"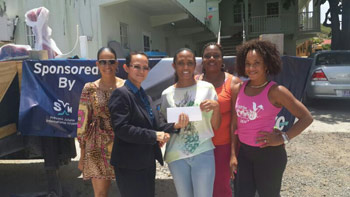 SIMPSON BAY, St. Maarten ((Monday, April 28, 2014) - The Princess Juliana International Airport (SXM), is in full support of bringing back floats to the Carnival Parade, hence its sponsorship of MOMS, a group consisting of members that recall those days when floats were not a rarity, but a permanent feature of Carnival.
According to the group, "we knew of the presence of floats in the Carnival Parade while growing up, however, the presence of floats during the parade is now a rarity and in some years was nonexistent." "We at SXM Airport understand and share the importance of our children actively participating in Carnival, which is the island's main Cultural Celebration," said Regina LaBega, managing director of SXM Airport. "We are therefore proud to be of assistance in reviving the tradition of floats in our Carnival," she added.
The branded float is titled, "Nemo and Friends," a spectacular children's float that will be seen by thousands during the Carnival Parade, especially since this year, both the Children's Parade and Grand Parade will be held together.
"We are all very excited about it, and I urge everyone to come out and see it at the Parade; I am sure you will enjoy it," concluded LaBega.