News & Media

SXM Meets with FRED on Recruitment of Young St. Maarten Professionals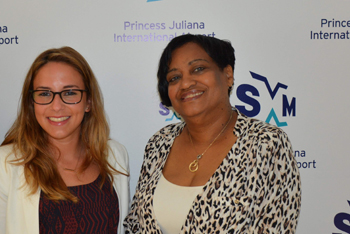 SIMPSON BAY, St. Maarten (Tuesday, January 13, 2015) - Managing Director of Princess Juliana International Airport, SXM, Regina LaBega and Chief Administrative Officer Migdala Artsen-Clarinda, met with Stephanie Carty of the Flinx Recruitment Expo Dutch Caribbean (FRED) just before Christmas.
The briefing touched on various points of the young company in the Netherlands. FRED was established to help provide young and starting professionals from St. Maarten with an opportunity to pursue work on their island, and to provide internship opportunities to those studying abroad. FRED is a "recruitment event" with the primary objective of getting professionals and students residing in the Netherlands back to their native Caribbean islands and into the respective job markets.
SXM's Managing Director Labega said that she is "very impressed" by this initiative of FRED. "I have always strongly believed that we should nurture and tend to our local professional talents first," said LaBega.
FRED started as a statistical initiative, which has shown that many students who left for tertiary studies in the Netherlands ended up leading a professional and personal life in the Netherlands.
To further help attract such professionals to return home, Stephanie Carty is currently reaching out to different St. Maarten organizations who would be interested in representing St. Maarten at The Flinx Recruitment Expo Dutch Caribbean job fair in Rotterdam, The Netherlands in 2015, where young professionals and those seeking jobs would have the opportunity to meet with employers from the islands. Photo