News & Media

SXM Airport, IATA and Stakeholders to Discuss Automated Passport Control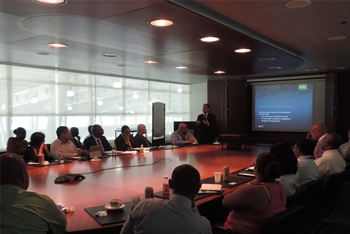 SIMPSON BAY, St. Maarten (January 25, 2015) -St. Maarten government representatives from the Ministry of Tourism, Economic Affairs, Transport and Telecommunications (TEATT) and the Ministry of Justice will attend a meeting on Tuesday, January 27, 2015, hosted by the Princess Juliana International Airport, SXM, to discuss the possible establishment of an Automated Passport Control with officials of the International Air Transport Association (IATA) and other stakeholders.
According to Regina LaBega, SXM Managing Director, Aruba has just implemented such a practice, which is aimed at expediting passenger movement through Immigration and Customs at the airport, especially in view of IATA's forecast that international travel is expected to register a robust increase this year. The IATA forecast that global passenger traffic will reach 7.2 billion in 2015, could result in longer queues at Security checkpoints and Immigration. One of the solutions envisaged to avoid this is the Automated Passport Control system.
"We have been holding very productive discussions with the Ministry of Justice, particularly the Immigration Department to discuss various immigration issues and airport synergies for improved efficiency, data collection, safety, as well as the possibility of implementing Automated Passport Control," LaBega stated.
"The meeting this Tuesday is meant as a follow up to these discussions, which would allow IATA and others to make presentations regarding the Automated Passport Control and the benefits that would result from this system," LaBega continued. She said Udo Aaron, Director of Immigration and Naturalization Service (INS) of St. Maarten with whom she has held discussions, is very receptive to this idea and would also be present at the meeting with IATA.
According to the SXM managing director, "Automated Passport Control would allow passengers, upon arrival, to simply scan their passports and verify biometric and flight information in a fully automated procedure that could be monitored by Immigration."
Other topics discussed at meetings with the Immigration and Naturalization Service include synchronizing data collection and the different systems that could be utilized to share passenger data between both entities. SXM has agreed to assess the feasibility of implementing such systems. Both entities also agreed to collaborate on further exploring "E-Gates," which would allow passengers to scan their boarding passes in order to gain entry into the Immigration areas. In addition, preclearance, the TSIS project and enhanced Safety & Security within and around the terminal building formed part of the discussions.
Aaron disclosed that about 12 additional Immigration officers have been stationed at the airport after undergoing training. LaBega confirmed that she had received some complimentary reports about the performance of the Immigration Officers at SXM and noted that this was noticeable especially during the busy holiday period.
"The idea is to ensure that passengers using SXM airport have a seamless and pleasant travel experience by reducing queues and the time they spend being processed through Security and Immigration check points. This will facilitate a more efficient use of space and a possible reduction in infrastructure requirements and costs," LaBega concludeds.