News & Media

SXM Airport on the Radar of Various Carriers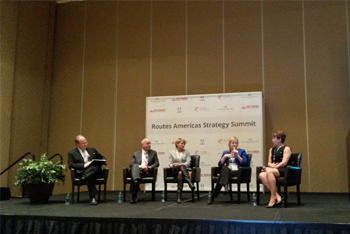 SIMPSON BAY, St. Maarten (Wednesday, February 18, 2015) -The Princess Juliana International Airport, SXM, remains firmly on the radar of various airlines with several carriers stating that they are very pleased with the airport.
The During one-on-one meetings between the St. Maarten delegation led by Minister of Tourism, Economic Affairs, Transport and Telecommunications, Claret Connor and a number of airlines and airport representatives at the recently held Routes Americas, to discuss current and new air service opportunities, the US carriers indicated that the 2014 load factors were good and no changes were expected in the market.
The St. Maarten delegation, which also included Regina LaBega, SXM Managing Director and other top officials of the airport, was told that SXM is in demand in markets like Canada. This has resulted in increased frequencies and new service from cities like Toronto and Ottawa, respectively.
Among the opportunities the delegation was able to identify is the fact that Surinam Airways is prepared to provide service from Amsterdam to St. Maarten (AMSSXM). Its partnership with GOL also offers opportunities to explore service from Brazil.
Similarly, Azul, a Low Cost Carrier based in Sao Paolo's Campinas Viracopos International Airport, is interested in the St. Maarten market and will further explore air service opportunities. Azul's CEO and Founder, David Neeleman, and Jim Smith, who is responsible for Azul's North America and Caribbean Operations, both formerly worked with JetBlue and are very familiar with SXM, having negotiated and secured JetBlue's service to SXM.
Furthermore, United indicated that increased frequency may be possible from Chicago and Washington, next winter. In addition, the carrier is looking at service from Houston in the summer. Service from Houston has proven to be successful in the summer (i.e. Providenciales) and can be considered for a seasonal swap with Chicago.
Moreover, Southwest will further explore the possibility of a Baltimore, MD (BWI) service to SXM. Baltimore is currently its biggest international gateway. The airline is already considering service to SXM from Fort Lauderdale and possibly Orlando as part of its expansion into the Caribbean. SXM remains high on Southwest's radar, stated Gad P. Wavomba, in charge of the airline's International Planning.
Another Low Cost Carrier, Viva Colombia, based in Medellin, Colombia, also expressed an interest in the market and stated that SXM is "on the radar" as part of its preliminary research, as it plans to expand into the Caribbean in 2016.
With regards to the European market, SXM is still on British Airways' radar, as part of a double stop with one of its current Caribbean hubs, either St. Lucia or Antigua. A possible consideration for its 2015 winter schedule is currently being looked into. In addition, Simon Edwards and Druvika Patel of London's Gatwick airport expressed their willingness and interest in further exploring possible service to SXM, with representatives from British Airways and Virgin.
Also, the current service from Stockholm, Sweden by Thomas Cook Airlines, offers a great window of opportunity to discuss possible service from Manchester, England by Thomson Airways.
Closer to home, Insel Air plans to increase its service to SXM by introducing an Aruba – St. Maarten (AUA-SXM) service, as well as increasing its St. Maarten – Santo Domingo (SXM-SDQ) service.
In spite of all the positive outlook, however, threats remain. For example, St. Maarten is at risk of losing JetBlue's service to San Juan, Puerto Rico. This market needs urgent attention.
Also, questions were raised concerning the hotel product in St. Maarten. Besides, a perceived lack of marketing efforts by the destination seems to be contributing to the below par performance in some markets.
On a different front, Copa may have to reduce its capacity if the flights it currently operates to SXM airport continue to perform below expectations. In 2012 and 2013, when it operated less flights the carrier had much better performance numbers, while the average load factor for 2014 was 50%.
However, the St. Maarten delegation suggested that Copa considers using a different aircraft type – Embrear – on this route, instead of the B737, which would result in better load factors, and therefore be more sustainable.