News & Media

SXM Airport Sponsors Claudette Alexander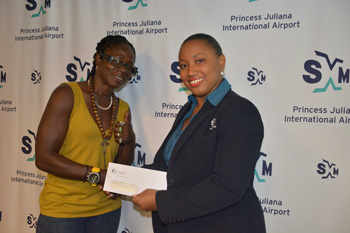 SIMPSON BAY, St. Maarten (Thursday, February 26, 2015) - Thanks in part to the sponsorship of the Princess Juliana International Airport, SXM, Claudette Alexander, perhaps the island's only female aviation mechanic, will be attending a conference organized by Women in Aviation International (WAI) from March 5 – 7 in Dallas, Texas.
"When we read about her invitation to this conference, and her need for financial assistance with part of her travel expenses, we decided we wouldn't wait for her to contact us, but we went ahead and called her to offer our help," said Kalifa Hickinson, SXM's Communications Specialist.
"We saw if fit to sponsor Ms. Alexander as it falls within SXM Airport's policy to promote the advancement of individuals, especially in the aviation industry, given that this is our core business," Hickinson added.
Alexander, who works as an aviation mechanic at the L'Esperance Airport in Grand Case, was delighted at the assistance. She leaves St. Maarten on Monday, March 2, 2015.