News & Media

July starts with celebrations at SXM Airport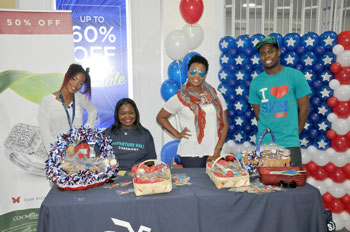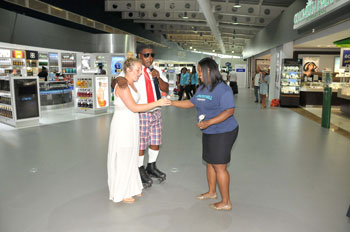 SIMPSON BAY, St. Maarten (Thursday, July 9, 2015) - From the very first day, to the month's end July is never without exciting events for the people of St. Maarten and their visitors. And Princess Juliana International Airport, SXM, did not skip a beat with kicking off the month with celebrations of Emancipation Day on July 1, and the USA Independence Day on July 4, respectively.
The folkloric group, the Jolly Boys from Grand Case entertained passengers on July 1, making them aware that the island was marking the freedom of its ancestors from the evil institution of Slavery.
The seven-member band sang songs of old, bringing to its performance a St. Maarten energy that was felt by all. Their unique handmade instruments fascinated the passengers, as they danced and were interviewed by the band members regarding the purpose of their visit.
Similarly, a few days later, on Saturday, July 4, SXM Airport held a three-hour USA Independence Day entertainment for the large group of passengers using the facility. Popular island entertainer, Ricky da Foxx and his dancers headlined the event.
SXM Airport management decided to highlight the occasion for the USA traveling market, which is the largest group making use of the terminal. The passengers were quite impressed as the US flag was featured as a red, white and blue balloon backdrop, attracting attention from passersby in the newly renovated Departure Lounge. The delectable treats offered by the SXM Airport team included July 4-themed cake pops, push-up cakes, and cookies, all made in St. Maarten.
Moreover, Ricky da Foxx reminded the passengers of the Independence Day specials offered by the concessionaires (stores) and wowed passengers with his vocal talent while performing on roller skates throughout the Departure Lounge.
"Passengers get their first and last impressions of the island as they arrive or depart SXM Airport. It is therefore important for us to make these lasting memories they will cherish for a long time," said Suzy Kartokromo, acting manager of the Marketing and Customer Service Department of the airport.