News & Media

5th Anniversary of FOD Month at SXM Airport a Success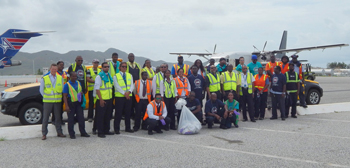 SIMPSON BAY, St. Maarten (Thursday, July 30, 2015) - The Foreign Object Debris (FOD) prevention awareness at Princess Juliana International Airport, SXM, has continued in July with debris-removal walks, and inspections.
The FOD Awareness Month at SXM Airport is observed annually in June. This year marked the fifth anniversary of FOD Awareness with the June activities, which included several information sessions and FOD walks; and with the extension of the awareness and training program through July, according to Michel Hyman, SXM Airport Operations manager.
The awareness and training program through July scheduled two FOD walks a month to ensure full participation and a weekly selection of airline representatives to carry out runway inspections with the Operations Department during the various periods of the day and have them observe and report their findings.
Similarly, the program included a weekly selection involving all airport stakeholders such as caterers, cargo operators, and ground support services, to assist with FOD removal and apron cleanup.
"We also have a simulated training presentation program that includes show and tell and demonstration of various systems, and a display of Operations sweeper vehicle and pick-up stick for the removal of wildlife," Hyman added.
SXM Airport's Rescue and Firefighting Department (RFF) has been functioning as a support group, giving a demonstration of the use of the Jaws of Life as well as the RFF truck for the removal of debris such as fuel, gravel, etc.
Beginning with the FOD Awareness activities in June, "The participation from the users and staff was overwhelming," Hyman stated.
"We received a lot of feedback on the presentations delivered on FOD, causes and how to rid the work environment of FOD. One of the presenters, Mukesh Elenora, senior staff at Arrindell by Signature, went beyond our expectations to develop a self-made video on how to control and properly dispose of FOD. This video was shown during the awareness session and was well received by all," Hyman stated.
The annual FOD month began with the traditional FOD walk in which several stakeholders participated. They included flight crews, mechanics, bus operators, fuel agents, Cargo handlers, counter and gate agents, Security Officers, Airlines and Handlers Managers/representatives, SXM Technical, RFF, Security and Airport Operations Team.
The FOD presentations were focused on continuous safety training for all persons with access to the airport's operations area. 
"The mission of the awareness month is to expound on the importance of the FOD prevention at SXM Airport," Hyman said.
One of the highlights of the awareness month is the FOD Boss Award, which recognizes an organization that exhibits a year-round commitment to promote FOD awareness for a safer work environment. The winner of the FOD Boss Award in 2015 is the Windward Islands Airways International (Winair).
According to Hyman, the goal of the FOD Boss Award is to motivate organizations to develop and promote the awareness of Foreign Object Debris/Damage.