News & Media

SXM Airport Closes Off Adoption of PWAS with Hefty Check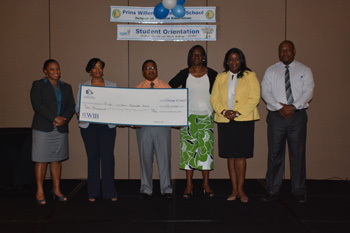 SIMPSON BAY, St. Maarten (Tuesday, November 3, 2015) - At the recent Orientation Day held by the Prins Willem Alexander School (PWAS) at the Westin Dawn Beach Resort Hotel, the Princess Juliana International Airport, SXM, closed off its two-year adoption of the school with a "golden handshake" consisting of a check of US$10,000.
According to the school director Ana LaBega, the donation will go to the purchase of steel pans.
"Our special needs students love playing music and they learn the pan easily. We are hoping to have a school band," the principal disclosed.
The purpose of the orientation was to inform the students about disabilities, motivate them, and to enhance giving them an understanding that although they may learn differently, that they can still be successful.
Elsidro St. Jago, Section Head of Security Guards at SXM Airport and an alumnus of the school, was among the guest speakers at the event. He gave a motivational speech to the students.