News & Media

Fiona van Kampen wins Toppix photo competition with a "dream" landing shot at SXM Airport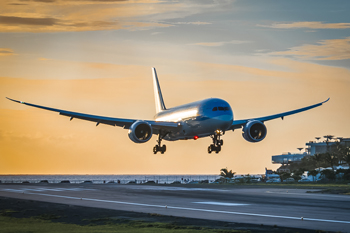 SIMPSON BAY, St. Maarten (Friday, November 13, 2015) - Fiona van Kampen won the annual SXM Aviation Photography Competition, Toppix, on Friday, November 13, said Suzy Kartokromo, Acting Manager of the Marketing & Customer Service Department at SXM Airport.
Van Kampen took home the first prize purse of $2,500 for her winning image of a TUI 787 Dreamline airplane preparing to land at SXM Airport. The photograph also depicts the "Most spectacular landing" theme of Toppix 2015.
"Fiona submitted three photos, the maximum number per competition rules, and all of her images were finalists vying for the first prize," said Kartokromo.
The photographer previously lived in St. Maarten and this year she traveled from Tanzania to participate in the Toppix aviation photo competition.
The contest started on November 6 and concluded at midnight November 12. Judging was held on November 13, followed on Friday afternoon with the announcement of the winners and the prize-giving ceremony.
According to Robert Cijntje, coordinator of the event, about 35 photographers were expected to take part in the SXM Aviation Photography Competition 2015 — coming from the US, Canada, Europe, Africa, and St. Maarten/St. Martin.