News & Media

SXM Aviation Photo Contest, Toppix 2015, Takes Off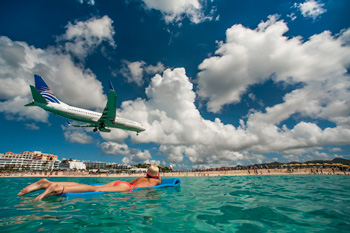 SIMPSON BAY, St. Maarten (Sunday, November 5, 2015) - The annual SXM Aviation Photography Competition, TOPPIX, takes off on Friday, November 6, 2015 with a welcome and briefing session at SXM Airport starting at 8 AM.
The competition proper will start immediately after the briefing session and will end at midnight November 12, 2015 by which time all participants are expected to have submitted their entries. Judging will be held on November 13 and the winners will be announced that same afternoon, with the prize-giving ceremony held at the same time.
Minimum age for participation in the competition is 16. Participants younger than 18 years old must have the registration form co-signed by their legal representatives.
According to Robert Cijntje, coordinator of the event, about 35 photographers are expected to take part in the competition with some 6 to 7 coming from the US, Canada and Europe. The others are St. Maarten/St. Martin photographers.
Participants can submit a maximum of three photographs in the jpg format with a minimum of 1200 pix on the longest side and 800 pix on the shortest side. The photos must be e-mailed to toppix2015@xpress-digital.com and received on or before November 12, 2015 (23:59 hours). The e-mail must contain the full name, address and telephone number of the photographer. The photos must contain the correct EXIF date and time according to local St Maarten time.
In addition, the photos must be taken on St. Maarten between November 6, 2015 and November 12, 2015. They must depict an aviation-related action (as per the theme given by the organizing committee) on St. Maarten, have an aspect ratio of 3:2 and be in landscape format. An aircraft should be visible in the photo with a St. Maarten backdrop. The theme will be given during the Welcome Briefing. Only photos for which the participant has full copyright will be accepted. During the briefing, additional rules can be added or eased if any logistic, safety or security considerations require this.
The participant with the winning image will receive a prize of US$2,500. However, in order to claim the prize the participant and/or his or her legal representative must be present at the prize-giving ceremony.