News & Media

SXM Airport remains of interest to airlines at Routes Americas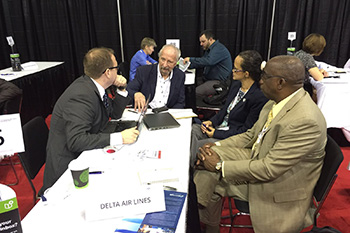 SIMPSON BAY, St. Maarten (Tuesday, March 8, 2016) - St. Maarten continues to be a much sought after market. There's significant interest in the destination. This sums up the reaction of particularly major US airlines during one-on-one meetings with the SXM Airport delegation to the recently concluded Routes Americas conference in San Juan Puerto Rico.
The SXM Airport delegation was led by Deputy Managing Director, Mr. Larry Donker, Acting Director, Operations Division, Mr. Michel Hyman and Manager, Marketing & Customer Services Ms. Suzy Kartokromo.
US carriers, Delta and JetBlue said they were happy with their mainland services and the 2015 Load Factors. Delta offers flights to SXM from Atlanta, Minneapolis (during the high season) and New York (JFK), while JetBlue flies here from Boston and New York (JFK). No changes are expected in these routes for both airlines in 2016.
Low cost carrier Spirit advised that its current weekly service from Fort Lauderdale is performing to their satisfaction.
"While carriers were overall very pleased with the operations and services at SXM Airport, we must pay close attention to those expressing concern," said Donker.
JetBlue explained that its decision to discontinue its daily SXM-SJU service was due to a small local market in Puerto Rico (SJU), which is currently experiencing serious economic challenges. It was revealed that local demand is very weak and significant mainland service has resulted in a traffic shift.
COPA informed the delegation that its Load Factor has been declining since July 2015 although it did not give any indication of what it intends to do as a result.
Lack of marketing efforts by St. Maarten compared to the aggressive approach of other competing destinations, such as Barbados, Aruba, Curacao and Jamaica is seen as a major weakness in maintaining and even attracting more airline service to St. Maarten.
"This puts us at risk of losing frequencies or service of carriers like Copa or Sunwing," noted Donker.
He added that many Caribbean islands, such as Barbados are presenting incentive programs to lure service to their respective destinations.
It is, therefore, imperative that all industry partners combine efforts and strategize, and if practical, discuss incentive packages for further route development and/or extending of the high tourist season, Donker said.