News & Media

PJIAE and WICSU-PSU sign four-year Collective Labor Agreement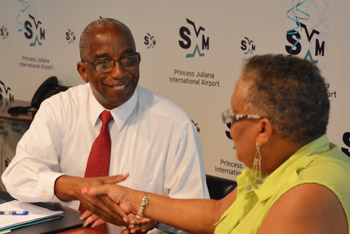 SIMPSON BAY, St. Maarten (Tuesday, June 7, 2016)—Following nearly 18 months of negotiations, PJIAE and WICSU-PSU recently signed a four-year agreement, which covers the employees of SXM Airport's Air Traffic Services division.

Mr. Larry Donker, Deputy Managing Director of PJIAE, said it was "both a pleasure and honor" to be part of "this great accomplishment."

"There were some intense moments, some sleepless nights, but throughout it all you remained professional. There's no doubt that we have some of the best in this industry working in that tower and it goes without saying that PJIAE is proud of the men and women of the Air Traffic Services division and their hard work," said Mr. Donker. Elton Jones, who spoke on behalf of the PJIAE negotiating team, praised the shop stewards, for the good negotiation skills displayed during the negotiations.

Mr. Jones also said that "both negotiation teams did what was necessary for our own future and for the longevity of the company, which is referred to as the goose that lays the golden egg. And it was done with keen knowledge of its economic impact on our society and this country of ours."

Mr. Jones said that the Air Traffic Services negotiation team proved to the PJIAE negotiating team that they were a great opposing partner, knowledgeable of the material and willing to compromise when presented with clear evidence of the company's inability to comply with their request or demand. He stated that they were tough in their demands, but fair. "In the end you've given substance to the saying 'country above self'," said Mr. Jones.