News & Media

PJIAE Emergency Plan Exercise "re-enactment" at SXM Airport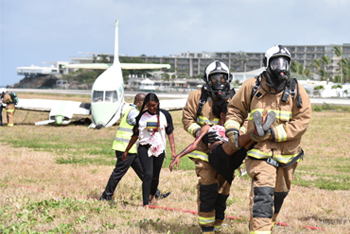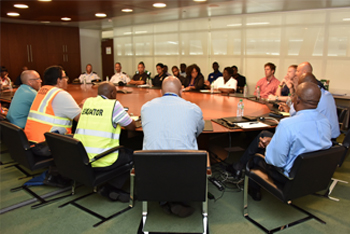 SIMPSON BAY, St. Maarten (Tuesday, July 5, 2016)— The Management of PJIAE in coordination with the St. Maarten Government departments of fire services and disaster management hosted its live bi-annual Emergency Exercise on Tuesday, July 5, 2016, starting at 9:30 AM, at the Princess Juliana International Airport (SXM). The exercise was carried out in the proximity of the threshold 10 on the airport runway.
The purpose of this exercise was to assess the level of preparedness and coordination between PJIAE and the island emergency agencies in response to a simulated aircraft accident, said Mr. Larry Donker, SXM Deputy Managing Director.
The live Emergency Exercise is a standard practice at airports and is sanctioned by the International Civil Aviation Organization (ICAO). The exercise also serves to train agencies to save human lives in the event that an aircraft accident occurs, on or in the vicinity of the airport.
Prior to the emergency exercise at SXM, residents were warned not to become alarmed, as they would see clouds of smoke in the vicinity of the airport; mock live response search and rescue operation in the area; and heavy activity of firefighting units, ambulances, police and other units involved in the exercise on the public roads. Motorists were asked to cooperate and exercise caution due to planned road closure during the exercise.
The "re-enactment" of the "large scale scenario" involved 96 passengers (crew included) onboard a fictitious Boeing 737. The aircraft experienced technical problems due to the steering of the craft. The flight encountered the problem and was attempting to make a crash landing. The emergency exercise came to a close at 10:35 AM. "The evaluation team served to evaluate all the roles that are followed by the set procedures. The exercise went well and following the debriefing that followed on Tuesday we will compile a critique and then the emergency teams will meet to work on a plan of improvement," stated Mr. Michel Hyman, SXM Acting Director of Operations.