News & Media

SXM Airport receives the "BIZZ 2016" award for business excellence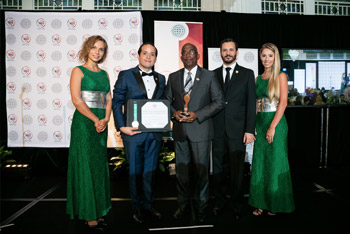 SIMPSON BAY, St. Maarten (Monday, August 8, 2016)— The Princess Juliana International Airport (SXM) recently received the "BIZZ 2016" award in Washington D.C., from the World Confederation of Businesses (WORLDCOB). The BIZZ award "recognizes the business excellence" of companies from around the world and their promotion of "corporate social responsibility," according to WORLDCOB.
"It is an honor to accept the 'BIZZ 2016' award on behalf of SXM. This award is for the work that is carried out daily at SXM, as a team consisting of management, personnel, stakeholders, and because of the international scope of the award our hub partners as well," said Larry Donker, Deputy Managing Director of SXM Airport. "The obtained recognition will allow SXM Airport to grow at the business level because it increases the capacity for business relationship, generates more businesses and revitalizes SXM Airport corporate image," according to WORLDCOB.
The 2016 gala award ceremony, which was attended by Donker, was held at the Willard Intercontinental, Washington D.C. and the award means that "SXM Airport has been considered as an elite member of WORLDCOB," according to the organization. WORLDCOB is based in Houston, Texas, and membership also allows for the management of companies receiving the BIZZ award "to generate businesses among the members of WORLDCOB and promote the socially responsible corporate culture," stated the organization.
WORLDCOB members and BIZZ award recipients include banking, media, insurance, medical, and energy corporations located in UAE, Qatar, Nigeria, Turkey, India, China, Indonesia, Jordan, Angola, Peru, and the Dominican Republic among other countries, according to the business organization.