News & Media

SXM Airport Honors Two at First-Ever "Security Day"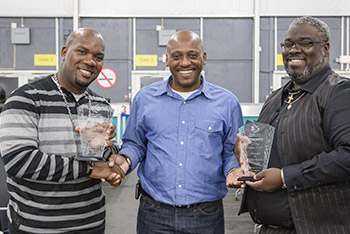 Simpson Bay, St. Maarten (Friday, 19 October, 2018) Three employees of the Princess Juliana International Airport (SXM) were honored with awards for their heroic efforts at the first-ever Security Day celebration held on Sunday, October 14, 2018. Andrew Rombley, Clyde Boasman and Jubert Spanner were the honorees of the event. Honoree, Clyde Boasman was absent for the celebration and would later receive his award. The ceremony was also addressed by the Safety and Security Inspector of the St. Maarten Civil Aviation Authority, Raymond Jacobs.

Speaking at the ceremony, Michel Hyman, COO of the airport noted that "All over the world, airport security has become priority number one, especially in the aftermath of 9-11 and continuing threats of international terrorism." He said this crucial aspect of the aviation industry is usually handled directly by government agencies, however, in the case of St. Maarten, "airport security is not executed by any government body."

"This important function was officially delegated to the Princess Juliana International Airport operating company, PJIAE N.V. on October 14, 1977 as indicated in the Publicatie Blad 1978," Hyman explained, adding: "That is why October 14th, has been chosen as Security Day, to celebrate and honor all our security personnel who have been doing a tremendous job in ensuring the safety of the hundreds of thousands of passengers, airline staff and others that make use of our airport facilities on a daily basis, all year round."

He said he considers it "a big vote of confidence in PJIAE N.V. that the St. Maarten government would charge it with such a great responsibility."

"Safety and Security have always been priority number one for us, and the performance of our security personnel has shown that this is not just a slogan. We live by it. We train for it. We abide by it. We invest heavily in it," he told the gathering.

Stating that he was "mighty proud" of the Security personnel at the airport, Hyman added: "Not only are you the backbone of our operations here at the airport, you have also demonstrated that you are topnotch professionals in your field. I salute you today on this auspicious occasion and wish you abundant blessings and God's guidance as you continue to make the Princess Juliana International Airport one of the safest airports in the world."

Security Day will be observed from now on as an annual event at SXM Airport.