News & Media

Phase One Reconstruction Works Begin at SXM Airport Terminal Building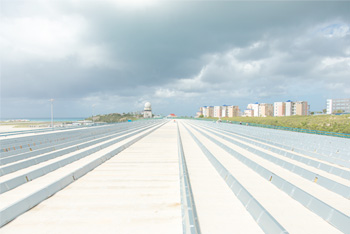 SIMPSON BAY, St. Maarten (Monday, October 22, 2018) - Following the successful mold remediation and testing procedure in the ground floor of the terminal building, the reconstruction of the Princess Juliana International Airport (SXM) has now officially commenced. Both projects are part of the Package One - Temporary Operations.
It will be recalled that the airport facilities sustained severe damages at the hands of hurricanes Irma and Maria in September, 2017. Commercial operations were restored on October 10, 2017, a little over a month after the storms forced the closure of the facilities. The Radar and Automation system of the Air Traffic Control (ATC) tower were also damaged and are expected to be fully operational again before the start of the high traffic season.

  Commodore N.V. has been awarded the reconstruction contract after the procedural procurement process was completed. The construction company will only be responsible for completing the build-out for Package One - Temporary Operations, which consists of partial works on the ground floor of the terminal building. Specifically, this will include the build-out of temporary check-in counters, immigration and emigration booths, offices, installation of security equipment, CCTV and reinstating the inbound/outbound baggage conveyor belts.  

Project Manager, Rob Normaan, said the contract also calls for the installation of the air-conditioning systems, sprinkler and fire alarm system, reception area, IT systems, seating and provisions for the retail and Food and Beverage related concessions.

  According to the Managing Board of SXM Airport, made up of CFO and Acting CEO, Ravi Daryanani and COO, Michel Hyman, the updated timeline for the completion of the Package One - Temporary Operations project is now December, 2018. After the temporary operations become fully functional in the Terminal Building, the arrival and departure pavilions will be dismantled. The completion of the project is expected to coincide with the beginning of the high tourist season.  

Also, the omega profiles were seen being hoisted onto the roof of the terminal building weeks ahead of the installation. The omega profiles are the frames on which the roof panels will be installed. Phase 2 of the roof works of the SXM Airport started in July 2018. The bull noses and soffits are being replaced. Ballast Nedam is the main contractor of the roof repairs. Phase 2 of the roof works is slated to be completed between the end of the year and the beginning of January.