News & Media

SXM Airport Kicks Off 75th Anniversary with Return to Terminal Building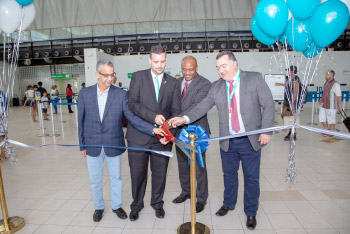 SIMPSON BAY, St. Maarten (Wednesday, December 19, 2018) - Although December 3rd, 2018 was the actual date of the 75th anniversary of the Princess Juliana International Airport, the celebrations were however, deferred to two weeks later to coincide with the official migration of arrival and departure operations back inside the Terminal Building since Hurricane Irma wreaked havoc on the island on September 6th, 2017, causing extensive damage to the building.
The ceremony was attended by several dignitaries including Governor Eugene Holiday, himself a former president of the airport, and Minister of Tourism, Economic Affairs, Transport and Telecommunications, Honorable Stuart Johnson, who is also the Shareholder's Representative of PJIAE N.V., the operating company of the airport.

In his address, Minister Johnson congratulated the Board, Management and Staff of the airport. He referred to the importance of the airport not only to the island's economy but also as a leading hub in the Caribbean and cited the many awards it had received over the years preceding Hurricane Irma. He added that these were clear indications that it wasn't impossible to bounce back to the envious position SXM Airport occupied prior to the monstrous storms that inflicted severe damages on it in September 2017.

Chairman of the Supervisory Board of Directors, Mr. Alex Dijkhoffz, also extended congratulatory messages to the Management and staff of the airport while acknowledging the challenges ahead. In his own remarks, the acting CEO and CFO, Mr. Ravi Daryanani said the "double whammy of Irma and Maria not only destroyed our award-winning airport – named the best in the Caribbean just the year before the storms – but also put a grinding stop to several capital improvement projects that were underway or in an advanced stage of planning."

"In actual fact," he continued, "the completion of Package 1 - Temporary Operations of the reconstruction project is what we are celebrating today. It includes the roofing project that is now in its finishing stages. I am proud to say that the new roof over our heads is not only state of the art but has been rebuilt to be able to sustain 185 miles per hour hurricane force winds. It is therefore perhaps the strongest of its kind anywhere in the region." "Where do we go from here?" he asked.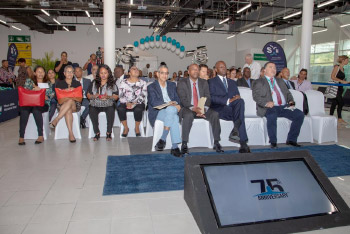 "The current advertising spot we have starts with the line, 'As the eagle soars above the storms, so does SXM Airport soar above adversity.' That is, indeed, true. Eagles seek new frontiers. They also have a long-term vision and commitment. Our airport, your airport, has adopted those characteristics of the eagle. As we mark our 75th anniversary, we invite you to fly with us above the storms. We are not yet at cruising heights yet, but we will get there. Princess Juliana International Airport will be back where it belongs – at the very top of the aviation ladder in the Caribbean and beyond," he concluded.

The Chief Operations Officer, Michel Hyman, also addressed the gathering. After pointing out some of the challenges the airport faced in the aftermath of Hurricanes Irma and Maria, he revealed that "most of the legacy airlines have returned to service the destination with the ramp-up of flights, making the peak tourist season which began just a few days ago to look quite bright."

According to Hyman, "Long-haul flight frequency in the first quarter of 2019 will be at 81% of what it was in 2017, culminating in March 2019 at 98% of the level it was for the same month in 2017."