News & Media

SXM roof repairs on track for May completion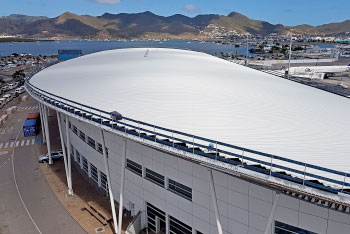 SIMPSON BAY, St. Maarten (Friday May 3, 2019) - The reconstruction works to finalize the roof betterment at the Princess Juliana International Airport, SXM is scheduled to be completed in May 2019. According to the official progress report from Project Manager Rob Noorman, Phase II of the roof repair works of the installation of the Riverclack roof sheeting is almost completed. The finishing works, and installation of the five roof expansion joints are slated to be executed early May 2019. Phase III of the roof repairs consists of the installation of the bullnoses and soffits along the perimeter of the roof and are scheduled to be finalized by the end of May. The Contractor commenced with the installation of an additional support system for the soffits in the second week of March and the first bullnoses were installed early April.

The Phase I works were completed last year July, which included the removal of the remnants of the long-standing roof, subsequent repairs and the installation of a waterproofing layer. Ballast Nedam was awarded the contract to carry out the roof repair works which commenced in March 2018. A total of thirty (30) employees were contracted to work on the project, fifteen (15) of which were locally employed.

It will be recalled that the roof of the terminal building, which measures 15,000 square meters was disastrously damaged by hurricanes Irma and Maria in September 2017. This rendered the terminal inaccessible until July 2018. From August to December 2018 the remediation and the Package One - Temporary operations works were executed. The scheduled re-opening of the terminal building ground floor for the temporary operations was achieved on December 14, 2018.

The Managing Board has since been doing its utmost best to ensure that the economic pillar of St. Maarten is safeguarded. The completion of the roof repair project in May will mark another important milestone in the journey back to full recovery and rehabilitation of the airport, just a month before the start of yet another Atlantic Hurricane season.