News & Media

Royal Visit at Princess Juliana International Airport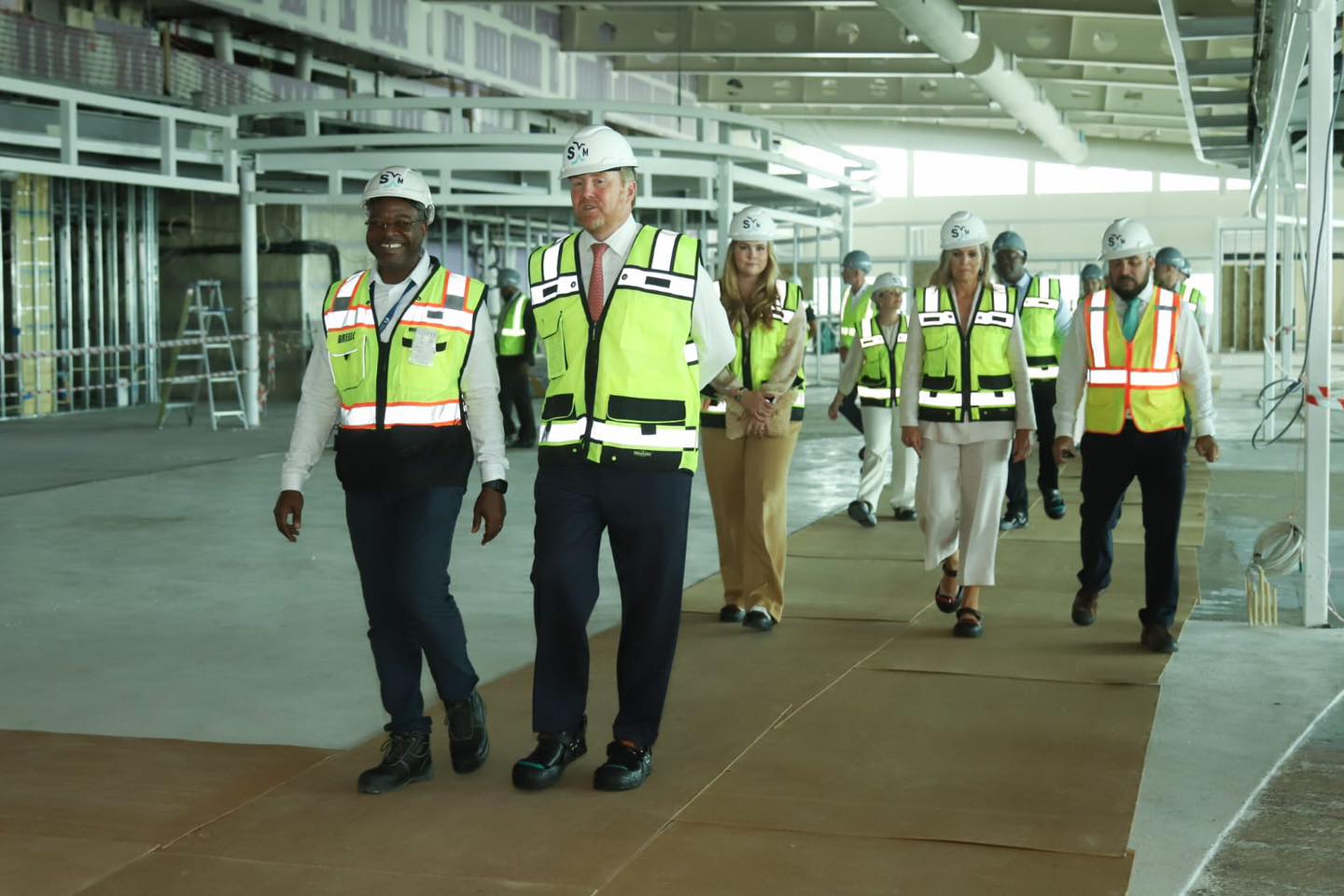 PJIAE N.V. Project Director, Mirto Breell and His Majesty King Willem Alexander takes center stage at the tour of the Airport Terminal Reconstruction Project during the Royal visit.
Simpson Bay, St. Maarten (February 6, 2023) – His Majesty King Willem Alexander, Her Majesty Queen Máxima, and Princess Amalia visited Princess Juliana International Airport today as part of Princess Amalia's introductory trip to the Caribbean of the Kingdom of the Netherlands.

The airport CEO, Brian Mingo, Project Director, Mirto Breell and Manager of Operations Z'haria Richardson, gave the Royals a tour of the construction area and the existing operations of the terminal building.

Currently, Ballast Nedam International Projects is rebuilding the new Departure Hall, which is set to open before the peak season of 2023. The new terminal building is expected to be completed in the second quarter of 2024.

During the visit, the Royals saw the impressive progress that has been made since the start of the rebuilding of the airport terminal which started in 2021.

The new terminal building is vital to the economy of the island, making it a source of pride for the airport and the entire team involved in its reconstruction.

Brian Mingo, CEO of Princess Juliana International Airport, said, "I am extremely proud to show the Royal family around the project and share the progress that has been made by the entire team. Rebuilding a live airport is a complex and demanding task, especially with the need to maintain daily operations. The focus is now on the completion of our airport which plays such an important role in the economy of St. Maarten."
About Princess Juliana International Airport

Princess Juliana International Airport is one of the busiest airports in the Northeast Caribbean. It is the most important airport hub for Saba, St Eustatius, St Barths, Anguilla, Dominica, Nevis, and Tortola. The airport is one of the largest employers on the island. It has 277 workers and 1700 workers within the entire airport community. In 2022 the Sint Maarten airport expects to handle 1.2 million passengers and 54.000 aircraft movements. The reconstruction works of the airport have started in September 2021. In 2023, the Departure Hall will be ready.

In the summer of 2024, the new terminal will be finished. Contractor Ballast Nedam International Projects (BNIP) is actively seeking cooperation with local people and companies which is essential for socioeconomic recovery of Sint Maarten.

Historic Timeline Princess Juliana Airport was officially opened by Princess Juliana in 1944. In 2006, her Majesty Queen Beatrix inaugurated the new terminal building in 2016. In 2017, the airport was hit by Hurricane Irma (Cat 5) In January 2020, Princess Juliana International Airport signed the World Bank/EIB loan to reconstruct the terminal. In July 2021, Ballast Nedam International Project signed the contract to start the reconstruction.